Autumn Reflections

October 30th, 2015 Tags:
author Kate Loving Shenk
,
The Prayer Prescription Series

Posted in
Prayer Prescription Series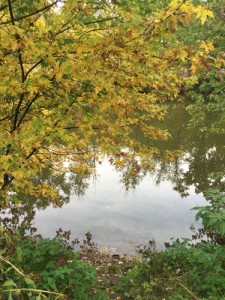 Dear Goddess, As October draws to a close, I reflect on the autumn of 2015, and all the beautiful autumns that have gone before. I draw them all into my heart in this beautiful predawn moment.
Autumn has always reminded me of a time for great contemplation, as well as a time when people become engaged again after a long hot summer: School starts, notebooks and pens for sale, college campuses fill up with students again. The sun makes its journey across the sky closer to the horizon. The nights are longer in duration. Snuggling time with people and animals is the rule of the night.
And the days grow shorter and shorter. The opportunity for sleep beckons to those still able to sleep.
These predawn contemplations become the standard of my life, written in notebooks I love to write in. The creative process stimulates my imagination at times such as these. The blank white page is a beautiful and enticing thing. The ink of the pen has its own special attraction.
We live and we learn. Autumn sets the stage for the passage of time in meaningful conversation. Social media brings us closer to every single person on the planet.
Remember to enjoy the day. That is my prayer prescription for October 30, 2015.
Om Peace Amen