My Cat T.S. Elliot – Podcast 278

October 28th, 2015 Tags:
animal communication
,
kate loving's PRAYER Podcast
,
The Prayer Prescription Series

Posted in
Prayer Prescription Series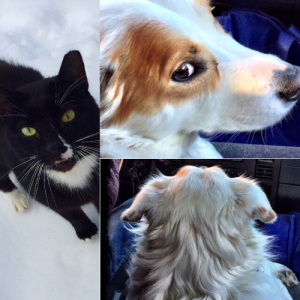 I learned on yesterday's radio show with Tim Link that I am not talking to my cat, T.S. Elliot. After all, he is perfectly able to take care of himself. And he does, so why does he need me to talk to him? I feed him and makes sure he comes in, out of the weather, but he is independently aloof and self-sufficient.
But I was wrong. He does need me to relate to him on an interpersonal level. He needs me to explain to him that he is safe when other people come to the house, and when Schizzo, our golden doodle friend, comes every holiday season.
When I look back over the deaths of Mukunda and Ulysses, I realize I could have communicated more directly with both dogs at their time of death. When Mukunda died, Ulysses needed me to have a conversation with him about that.
And as we neared Ulysses death, I wish we could have had a heart to heart about it.
That is what this podcast is all about.